Artist Statement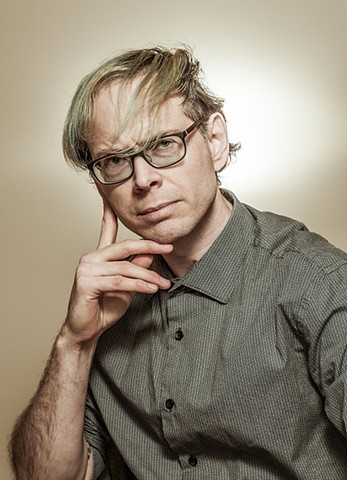 As a child of the 80's, I ate a steady diet of Saturday morning cartoons, comics and pop culture; learning you could tell stories with art. I graduated in 1993 with a BFA in panting from the Nova Scotia College of Art and Design, studying under Alex Livingston and Wilma Needham. In the mid-90's, I was a member of the Edmonton Small Press Organization, editing the groups' zine Prairie Jam for 12 issues. I also released 11 issues of my own comic zine, CrUDE. Comic books influenced my paintings, with heavy inks and soft watercolor filing single 11 X 17 inch pages with tales of humanity. During this time, myths and monsters started to enter my art thanks to the writing of Neil Gaiman and his book The Sandman.
After art college, I made art to tell stories. The themes were of something that looks like one object, but isn't; like gender role reversal in the series Women with Knives. I took women out of their traditional spaces, like the "kitchen," and put them in a man's world where they used their tools for power and strength. The backgrounds were old boiler rooms and drawn in graphite while the women were drawn in chalk pastel. I like to use the environment to influence me and at that time I explored old buildings to find the backgrounds for these pieces.
When I moved to Winnipeg in 2004, I created collages. This gave me an opportunity to learn about Winnipeg and to learn about myself. Picking up and placing bits and pieces that represented me and my world view, I tried to tell my story through these collages.
I moved to Winnipeg in 2004 and focused my art on painting and collage; creating a new mythology as I explored this new city. Watercolor, ink, collage and shadow boxes created a world of wonder and mystery, where the divine and, sometimes, darkness lurked in unexpected places. Between 2010 and 2011, I spent a year making single 4 X 6 inch paintings, one a day, culminating in the show 365 Days Before I Sleep.
I attended a two-week workshop in August 2017 at the European Cultural Academy where we studied contemporary art and the history/structure of the Biennale.
My current work focuses on reinterpreting characters from mythology and fairy tales. Self-taught as a watercolour painter, I explore roles of feminine power, turning victim into victor. Worlds of wonder and mystery evoke feelings of strength, anger, melancholy and joy. Villains are vanquished, and creatures are empowered in large, vibrant watercolour landscapes.
I gather tales from the Brothers Grimm, Hans Christian Anderson and stories from Greek, Roman and Russian folklore to explore how strength and vulnerability can coexist in the same figure. My purpose is twofold, empowering the female figure by telling their story using contemporary values and at the same time, gathering strength into my own life.